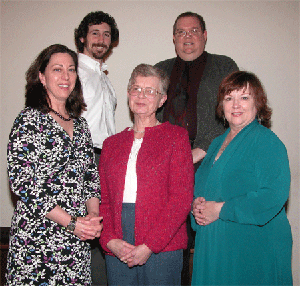 We had the privilege tonight of singing for the confirmation Mass at Holy Ghost Church in Knoxville.
We sang two pieces for a 10-minute prelude—the chant Confirma hoc and the three-part Jesu Rex Admirabilis attributed to Palestrina—that also included two organ pieces.
We joined the Holy Ghost choir for the Mass and sang an introit (an English setting of Judica me, Deo, composed by Vladimir Soroka), several dignified hymns, and Albin Mascek's setting of Veni Sancte Spiritus. Good stuff all around.
Here's the schola in its current incarnation: from left, me (Mary Weaver), Dan Pacitti, Susan Dixon, Steven Hensley, and Nancy Harless.